@PlanetBrandee — NYC Rainy Day Fashion #OOTD!
So it's fairly clear the weather is being not so cool lately here on the East Coast! NYC this Spring feels more like FALL, so GW is stepping back from our usual @PlanetBrandee travel adventure for another rain delay and bringing you some fabulous video celebrating way cooler ways to battle the drops than worn out galoshes and your usual wear! So grab a killer colorful umbrella and let's get singing in the rain with our special rainy day post!
Gene Kelly nails that classic man in the rainy day old school swagger!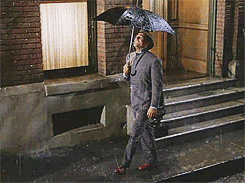 Who's your favorite rainy day inspiration? Being an ex-Musical Theatre and Dance major 5-6-7-8ing through Broadway streets, naturally, Gene is mine! But, there are SO many fun and fashionable ways to battle the bluster — let's get our video inso ON!
First up, the wicked fab Bethany Mota! Coming in a millions of followers on YouTube her rainy day outfit ideas are spot on!
Second up — the sharply stylish TheLineup ladies! Watch those turns on the staircase catwalk, because their effortlessly on point outfits are a *perfect* solution to these rainy Manhattan days!
And lastly, the fabulously adorbs blonde gal Shelby! Watch her spin out some super fresh rainy day gear that'll have you jumping out of bed!
SO: What's your solution for a rainy day #OOTD? Tell us your rain shower secrets! Better yet, snap a pic and share it with me for a chance to be featured next month!
And as always, stay tuned for my next #travel #adventure which has me going to a new destination, but shhhh, that's a secret for now! Till then, follow my #food, fun and travel treks on Twitter and Instagram @PlanetBrandee and see you on the streets!
When you #ShopGoodwill , not only will you look good, you'll feel good, too! Your purchases support Goodwill's programs and services. Head here to find GoodwillNYNJ store locations near you!